I celebrated the beginning of the creative process for the second book in the Fellstone Tales series, Operation Lockdown, Sunday night with my dear friends, Penney Knightly and Lon Boder.
Operation Lockdown takes up shortly after Operation Break Iron ends. Fellstone City is under lockdown after the assault on the Iron Fortress. An FRM agent is on his way to Fellstone City with important evidence and other secrets, completely unaware of the lockdown. He must be warned of the lockdown, but no adult can get into or out of Fellstone City. It's up to Cheff and the gang to intercept the agent and warn him. After all, who would ever suspect a bunch of kids? Right?
We met at the incomparable Vista Pub in Brookings, Oregon, for an afternoon of craft beers and world-class burgers, and brainstormed dozens of brand new scenes.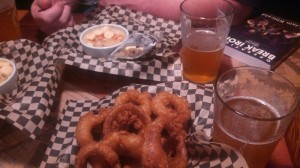 My favorite is the onion-peanut butter-cranberry sauce burger with a pineapple ring. Sounds weird, but tastes great!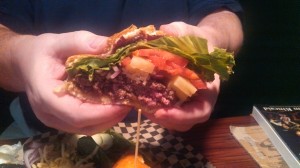 Vista Pub is our favorite brainstorming venue and purveyor of fine Creative Brain Food. Ray makes everything from scratch using local meat, produce, and buns. It's the best burger on the coast! If you happen to be traveling on the Oregon coast, don't miss Vista Pub.
Here's more about Vista Pub: